Rock Candy Stick - Bulk Buy
120 Units per Box
More Info...
Free Local Delivery on orders over €40.00. Free Nationwide Delivery on orders over €200.
Earn loyalty discount on repeat purchases!
Celtic Confectionery - Rock Candy Stick - Bulk Buy only @ sweetco.ie
Rock Candy Stick - Bulk Buy
Rock Candy (Medium Size)

For Customised Rock:

We have quality Rock in different sizes, flavours and colours. Rock Sizes are small, medium and large with choice of Mint, Tri-color and green or you can choose your own colour. 

Size: Medium (230mm x 16mm).

If you want to customise your Rock by choosing the lettering or label of choice or local landmark or even your own shop for the label, then we can arrange this or you can select one of our own label designs.  We have labels for Ireland and each County already designed for you convenience.

Customised Rock
The Minimum order quanity is 1000 sticks of rock
There is a lead time of 3 weeks for customised Rock from time of order.
Choose the Standard Lettering i.e. "Ireland Rock" or Enter your choice of lettering for centre of stick - this should be no more than 20 Characters
Choose one of our in-house labels or enter your label details i.e.:

 the message, this can be for example "A Gift from Wexford"... you can choose you county, town, shop, or whatever you wish, it is up to you.
Finally if you wish to upload an image for the label, upload you file in .jpg,.tif or.png format.
Note: Labels for rock are generally printed at 70mm x 40 mm, so space is limited.
We will email a proof of your label for approval prior to going to print.
For smaller orders of rock see in stock Rock Candy Stick.
FREE DELIVERY NATIONWIDE

More Information here

All prices EX VAT.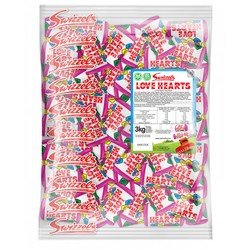 Buying sweets in Bulk has never cheaper.
So if you are a planning a wedding, party, or promotional event, then check out our great confectionery offers!