Wedding Candy Carts
19 Sep
Posted By
5 Comment(s)
5028 View(s)
Wedding Sweet Table / Candy Cart

What is a candy buffet?
A Candy buffet is where you serve your guests confectionery and that the guests at your wedding can directly see the lovely selection of sweets and immediately choose which sweets to take. You can effectively serve a large number of people this way. If you have opted for a paid service, you can have someone help to serve your wedding guests. A Candy Buffet can either be laid out on a prepared decorated table, alternatively many choose to have a decorated Candy Cart or Candy Ferris Wheel.
What can I include in my candy buffet?
Generally, it is just what is says, candy sweets including soft jellies, chewy toffees, delicious chocolate, retro sweets, fizzy sweets, mallows, flumps, popcorn, whatever suits your taste really. Remember to take cognisance of guests who have food intolerances. So, we would recommend that you should have some sweet jars which can be labelled e.g. Gluten Free, Suitable for Vegans, etc.
How do I decorate my candy buffet?
Let your imagination run riot. Many couples tend to try and co-ordinate their buffet table or cart with their wedding theme colour. Quite often, the wedding venue will help and arrange this for the couple. If you are hiring the services of a wedding planner, or a wedding cart service, they will arrange this with you following consultation as to what you would like. Quite often, it is a project for a close friend/family member or someone belonging to the bridal party as they may want to surprise the couple or perhaps following instructions.
Should you decide to use your wedding colour theme, then it is really effective if you can match the sweets to your colour theme. Not alone the sweets, but the scoops and the sweet bags also. We also provide Sweet Jar labels in differenty colours also to suit you theme. You can write the name of the sweets on the labels which can be adhered to the Jars or Containers you decide to have.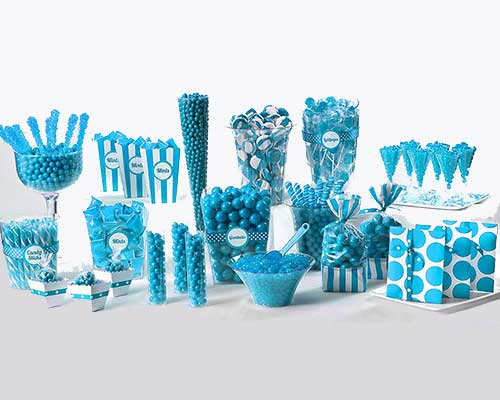 You can see from the above the sweet colour, labels, sweet bags and sweet scoops have been worked into a blue colour theme. We have put together a Blue and a Pink Wedding Candy Sweet Package to show how this type of idea can be achieved.
Having a Blue Themed Wedding Candy Buffet or Party. Then here is a great Blue Theme Sweet Bundle to save you the hassle of looking for sweets to match your theme and best of all you save 10% when you choose this Bundle!
Wedding decisions!
Deciding on whether to have Wedding Candy Buffet Table or Sweet Cart may not be as difficult as deciding what sweets to include and how much to include, this is where we can help.
We often get asked how much is enough? when it comes to ordering sweets. As a rule of thumb, we would advise couples that a fairly good way to assess this is to apportion 100g sweets per person. So how does that work out?
For example, if you have 200 guests attending your wedding, at 100 - 150g per guest, that works out 20,000 - 30,000g! Don't panic, it is not a much as you would think. This translates into 20-30kg in weight, most of our Bulk Sweet Bags, for example, Bonbons, weigh 3kg. Therefore, if you were to order our Gold Wedding Package, for example, which has been bundled to cater for upwards to 200 -250 guests, you would have just over 20kg sweets ordered and you would feel assured that you would enough for all your guests. We are Ireland's largest and cheapest online sweet supplier, and with our Wedding Packages as these are bundles offers, you are making more savings!! effectively your sweet cart wil cost no more than €1 per person!
See more of our Wedding Specials here
Wedding Accessories
Another common question we get asked is what else might be required for the Candy Table/Cart. Like most things, a couple will have an image of how their Wedding Cart/Table should be presented on the day, we merely provide the means for you to achieve this.
We provide a large selection of Sweet Jars, in various sizes and styles, with and without lids, these are very effective on any Sweet Table/Cart as it gives the overall presentation of the sweets in these containers the WOW factor. Check with your venue first though before purchasing as sometimes hotels, for example, may provide these as part of the Wedding Package, the same is true for the candy scoops. Our range of Candy Scoops are extremely good value for money and what is more, they come in various colours, so it makes it convenient if you need match your wedding theme colour. The same applies for our selection of Sweet Bags, we provide both paper and cello bags, both of which can be colour co-ordinated to your theme. Sweet Paper/Cello Bags are a must when you have a sweet table and make sure you have enough, as guests often like to take their sweet treats home. The other thing we say to couples who are trying to keep costs down, items like the sweet containers and scoops are all reusable and you will find that these will come in handy again for birthdays, parties, christenings or any such occasion.
For more on our Wedding Accessories, check this link out.